Choosing Wisely Brazil initiative for Women's Health/Pelvic Floor Physical Therapy: study protocol
Keywords:
Evidence-Based Practice, Clinical Decision Making, Health education, Recommendations
Abstract
INTRODUCTION: The Choosing Wisely initiative aims to promote discussions among health professionals and patients to reduce low-value care that confers no benefit or can cause harm to health. OBJECTIVE: To describe the process for developing the Brazilian Choosing Wisely list for Women's Health/Pelvic Floor Physical Therapy. METHODS: The research will be conducted in three stages. In the first stage, physical therapists with experience in women's health/pelvic floor will be invited to compose a panel of experts and respond to a form. The Delphi method will be used to derive a list of evidence-based statements. In the second stage, members of the research team will review all the recommendations provided by the expert panel. In the third stage, a sample of physical therapists will vote on the previously selected statements. The recommendations with the most votes in the national survey will be submitted to Choosing Wisely Brazil, and a final list of recommendations will be published.
Downloads
Download data is not yet available.
References
(1) Scott IA, Duckett SJ. In search of professional consensus in defining and reducing low-value care. Med J Aust. 2015;203(4):179-81. https://doi.org/10.5694/mja14.01664
(2) Cassel CK, Guest JA. Choosing wisely: helping physicians and patients make smart decisions about their care. JAMA 2012;307(17):1801-2. https://doi.org/10.1001/jama.2012.476
(3) Wolfson D, Santa J, Slass L. Engaging physicians and consumers in conversations about treatment overuse and waste: a short history of the choosing wisely campaign. Acad Med. 2014;89(7):990-5. https://doi.org/10.1097/acm.0000000000000270
(4) Brody H. Talking with patients about cost containment. J Gen Intern Med. 2014;29(1):5-6. https://doi.org/10.1007%2Fs11606-013-2596-9
(5) Welsh JL, Hoskin TL, Day CN, Habermann EB, Goetz MP, Boughey JC. Predicting Nodal Positivity in Women 70 Years of Age and Older with Hormone Receptor-Positive Breast Cancer to Aid Incorporation of a Society of Surgical Oncology Choosing Wisely Guideline into Clinical Practice. Ann Surg Oncol. 2017;24(10):2881-2888. https://doi.org/10.1245/s10434-017-5932-1
(6) Rodin D, Glicksman RM, Clark K, Kakani P, Cheung MC, Singh S, et al. Mammographic Surveillance in Older Women With Breast Cancer in Canada and the United States: Are We Choosing Wisely?. Pract Radiat Oncol. 2021;11(4):e384-e394. https://doi.org/10.1016/j.prro.2021.03.003
(7) Shah H, Surujballi J, Awan AA, Hutton B, Arnaout A, Shorr R, et al. A scoping review characterizing "Choosing Wisely®" recommendations for breast cancer management. Breast Cancer Res Treat. 2021;185(3):533-547. https://doi.org/10.1007/s10549-020-06009-2
(8) Jain V. Choosing Wisely-Bloodwork for Preeclampsia. J Obstet Gynaecol Can. 2018;40(6):723-725. https://doi.org/10.1016/j.jogc.2018.02.019
(9) Murphy J, Tanner T, Komorowski J. Shared Decision-Making with Choosing Wisely. Nurs Womens Health. 2019;23(3):253-264. https://doi.org/10.1016/j.nwh.2019.03.005
(10) Welk B, Winick-Ng J, McClure JA, Lorenzo AJ, Kulkarni G, Ordon M. The Impact of the Choosing Wisely Campaign in Urology. Urology. 2018;116:81-86. https://doi.org/10.1016/j.urology.2018.03.005
(11) Klaschik M. Choosing wisely - urinary catheter in urinary incontinence. MMW Fortschr Med. 2016;158(14):50-2. https://doi.org/10.1007/s15006-016-8585-2
(12) Green CR, Blake JM, Carson GD, Po L, Brown ARH, Friedman CL. Choosing Wisely: SOGC's Top 10 Recommendations. J Obstet Gynaecol Can. 2018;40(6):716-722. https://doi.org/10.1016/j.jogc.2018.04.024
(13) White NT, Delitto A, Manal TJ, Miller S. The American Physical Therapy Association's top five choosing wisely recommendations. Phys Ther. 2015;95(1):9-24. https://doi.org/10.2522/ptj.20140287
(14) Zadro J, Peek AL, Dodd RH, McCaffery K, Maher C. Physiotherapists' views on the Australian Physiotherapy Association's Choosing Wisely recommendations: a content analysis. BMJ Open. 2019;9(9):e031360. https://doi.org/10.1136/bmjopen-2019-031360
(15) Reis FJJ, Meziat-Filho N, Soares RJ, Correia LCL. Choosing Wisely Brazil: top 5 low-value practices that should be avoided in musculoskeletal physical therapy. Physiotherapy. 2021;112:9-15. https://doi.org/10.1016/j.physio.2021.03.003
(16) Maher CG, O'Keeffe M, Buchbinder R, Harris IA. Musculoskeletal healthcare: have we over-egged the pudding?. Int J Rheum Dis. 2019;22(11):1957-1960. https://doi.org/10.1111/1756-185x.13710
(17) Eysenbach G. Improving the quality of Web Surveys: The Checklist for Reporting Results of Internet E-Surveys (CHERRIES). J Med Internet Res. 2004;6(3):e34. https://doi.org/10.2196/jmir.6.3.e34
(18) Cacciari LP, Dumoulin C, Hay-Smith EJ. Pelvic floor muscle training versus no treatment, or inactive control treatments, for urinary incontinence in women: a cochrane systematic review abridged republication. Braz J Phys Ther. 2019;23(2):93-107. https://doi.org/10.1016/j.bjpt.2019.01.002
(19) Conselho Federal de Fisioterapia e Terapia Ocupacional (Brasil). Resolução nº. 372, de 06 de novembro de 2009. Reconhece a Saúde da Mulher como especialidade do profissional Fisioterapeuta e dá outras providências. Available from: https://www.coffito.gov.br/nsite/?p=3135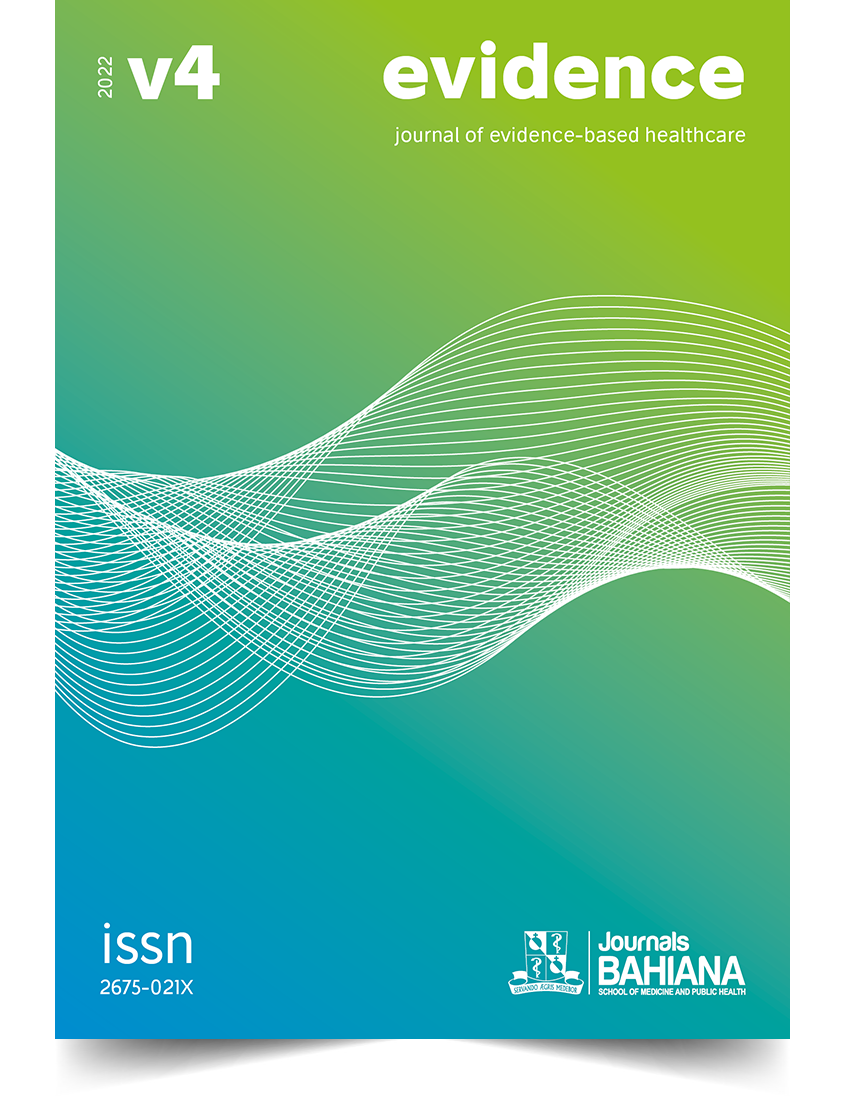 Downloads
License
Copyright (c) 2022 Patricia Driusso, Felipe José Jandre dos Reis, Jessica Cordeiro Rodrigues, Luísa Pasqualotto, Camila Chiazuto Catai, Lilian Rose Mascarenhas, Simone Botelho, Cristine Homsi Jorge
This work is licensed under a Creative Commons Attribution 4.0 International License.
The authors retain copyrights, transferring to the Journal of Evidence-Based Healthcare only the right of first publication. This work is licensed under a Creative Commons Attribution 4.0 International License.